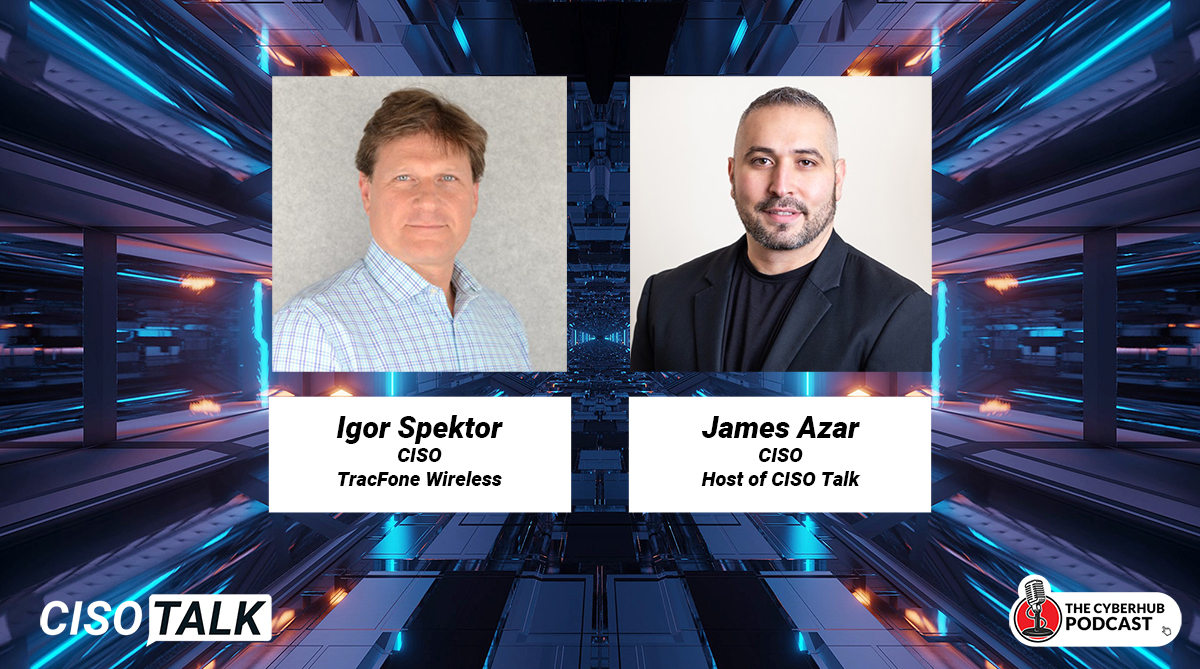 Mar 24, 2021 • 1HR 6M
Ep. 108 - Igor Spekto, CISO at TracFone Wireless
The conversation style podcast is all about the CISO view on cybersecurity, talent development, technology, leadership and so much more. CISO Talk is hosted by CISO James Azar who is leading a conversation with his peers on all things Cybersecurity and so much more than that... the show drops a new episode weekly, make sure to subscribe and watch the show on YouTube as well
In this episode of CISO Talk, James Azar hosts Igor Spektor, CISO at TracFone wireless as the two discuss team building, the challenges of a new CISO role and the advantages of it as well. The two also talk about cybersecurity vs corporate mission, how the successful firms understand that and what CISO's can do to enhance security across the enterprise.
Tune in to this amazing podcast and make sure to subscribe and comment
Bio:
Senior subject matter expert in Information Security, Risk Management and Security Transformation. Master at identifying and clarifying information security and technology risks, and coordinating remediation effort. Dynamic leader who builds high-performance teams and responds rapidly to changing priorities in fast-paced environments. Skilled strategist with proven problem solving, communication, and decision-making abilities, conducting a detailed analysis of complex challenges to formulate effective solutions in line with business objectives, timelines, and budgets. Proven ability to lead and direct. Effective team leader, continually empowering staff through training, guidance, and motivation Specialties: Information Systems, Information Security business transformation, IT Security Strategic Planning, Information Security Operation, Endpoint, Mobile and cloud Security, Compliance and Risk Management, Budget and Planning, Security Operations and process improvement.
Linkedin Profile: https://www.linkedin.com/in/igorspektor/
CISO Talk is supported by these great partners please make sure to check them out:
KnowBe4: https://info.knowbe4.com/phishing-security-test-cyberhub
Whistic: www.whistic.com/cyberhub
****
Find James Azar Host of CyberHub Podcast, CISO Talk, Goodbye Privacy, Tech Town Square, Other Side of Cyber and CISOs Secrets
James on Linkedin: https://www.linkedin.com/in/james-azar-a1655316/
James on Parler: @realjamesazar
Telegram: CyberHub Podcast
******
Sign up for our newsletter with the best of CyberHub Podcast delivered to your inbox once a month: http://bit.ly/cyberhubengage-newsletter
******
Website: https://www.cyberhubpodcast.com
Youtube: https://www.youtube.com/channel/UCPoU8iZfKFIsJ1gk0UrvGFw
Facebook: https://www.facebook.com/CyberHubpodcast/
Linkedin: https://www.linkedin.com/company/cyberhubpodcast/
Twitter: https://twitter.com/cyberhubpodcast
Instagram: https://www.instagram.com/cyberhubpodcast
Listen Here: https://linktr.ee/CISOtalk
The Hub of the Infosec Community.
Our mission is to provide substantive and quality content that's more than headlines or sales pitches. We want to be a valuable source to assist those cybersecurity practitioners in their mission to keep their organizations secure.