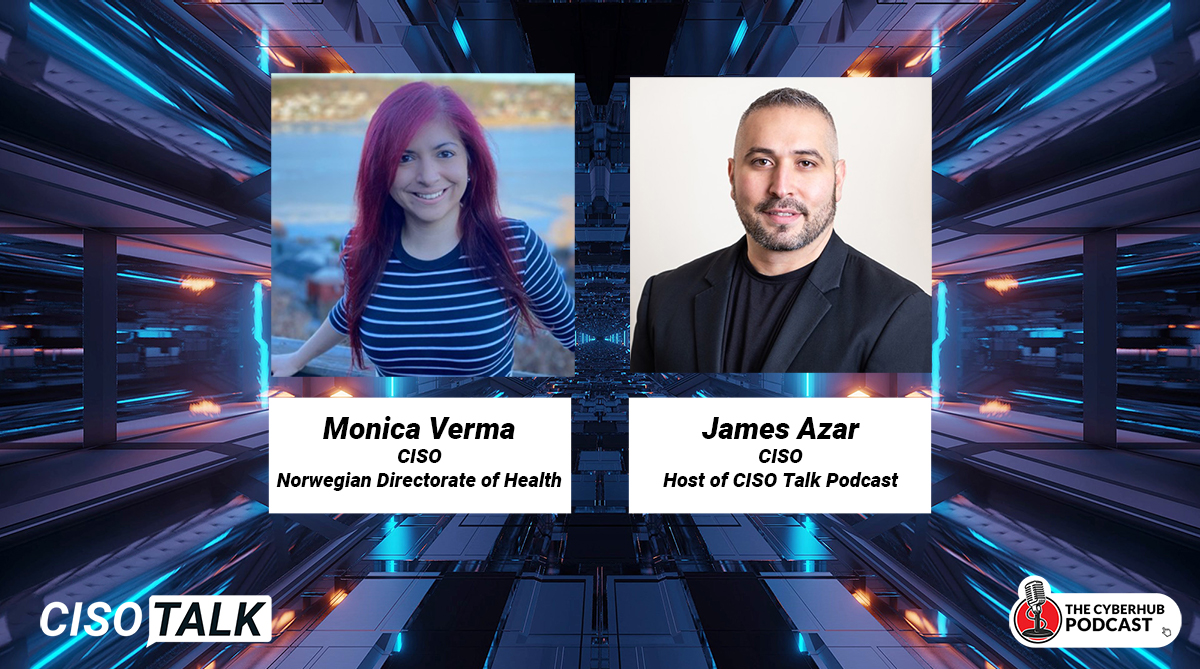 Apr 7, 2021 • 59M
Ep. 110 - Monica Verma, CISO at Norwegian Directorate of Health
The conversation style podcast is all about the CISO view on cybersecurity, talent development, technology, leadership and so much more. CISO Talk is hosted by CISO James Azar who is leading a conversation with his peers on all things Cybersecurity and so much more than that... the show drops a new episode weekly, make sure to subscribe and watch the show on YouTube as well
In this episode of CISO Talk, James Azar hosts Monica Verma from the Norwegian Directorate of Health to talk all things cybersecurity but mainly to discuss the latest challenges in securing healthcare data in the aftermath of the pandemic and how she plans out her first 100 days. We also discuss leadership, her past as hacker and how over the last decade she has been crushing it as a cybersecurity activist and CISO…
Tune in to this amazing podcast and make sure to subscribe and comment
Bio:
MonicaTalksCyber.com | Business CISO | Speaker | Hacker | Speaks 5 languages | Builds security to do things today we weren't able to do yesterday | Twitter @MonTalksCyber | Website MonicaTalksCyber.com | Host: We Talk Cyber | OSPA Winner | Board Member CSA Norway | Steering Group Women In Cybersecurity OSPA Winner 2019 https://no.theospas.com/2019/09/19/the-winners-of-2019-norway-ospas-announced/ CISO and Head of Security, Risk and Business Continuity. Working towards supporting, enabling and protecting the financial sector in Norway. Objectives: 1. Helping businesses and society with security challenges and enabling them to use security towards innovation and their business goals. 2. Security that enables business to do things today that they were not able to do yesterday.
Linkedin Profile: https://www.linkedin.com/in/monicaverma/
CISO Talk is supported by these great partners please make sure to check them out:
KnowBe4: https://info.knowbe4.com/phishing-security-test-cyberhub
Whistic: www.whistic.com/cyberhub
Attivo Networks: www.attivonetworks.com
****
Find James Azar Host of CyberHub Podcast, CISO Talk, Goodbye Privacy, Tech Town Square, Other Side of Cyber and CISOs Secrets
James on Linkedin: https://www.linkedin.com/in/james-azar-a1655316/
James on Parler: @realjamesazar
Telegram: CyberHub Podcast
******
Sign up for our newsletter with the best of CyberHub Podcast delivered to your inbox once a month: http://bit.ly/cyberhubengage-newsletter
******
Website: https://www.cyberhubpodcast.com
Youtube: https://www.youtube.com/channel/UCPoU8iZfKFIsJ1gk0UrvGFw
Facebook: https://www.facebook.com/CyberHubpodcast/
Linkedin: https://www.linkedin.com/company/cyberhubpodcast/
Twitter: https://twitter.com/cyberhubpodcast
Instagram: https://www.instagram.com/cyberhubpodcast
Listen Here: https://linktr.ee/CISOtalk
The Hub of the Infosec Community.
Our mission is to provide substantive and quality content that's more than headlines or sales pitches. We want to be a valuable source to assist those cybersecurity practitioners in their mission to keep their organizations secure.