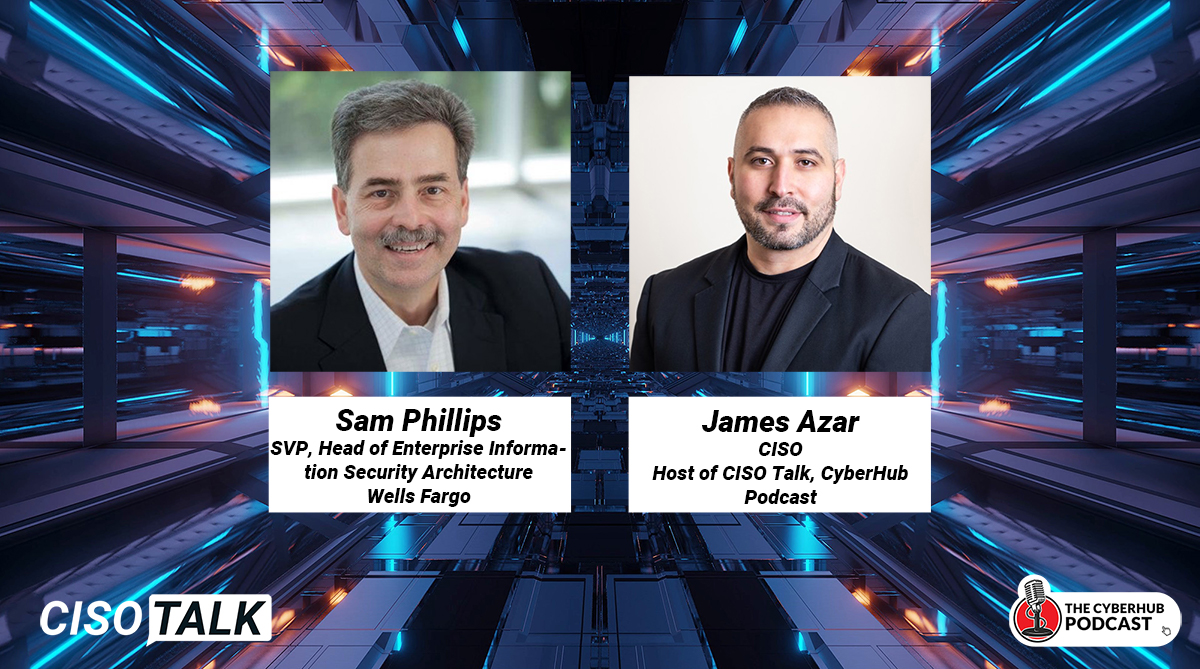 Apr 14, 2021 • 24M
Ep. 111 - Sam Phillips, SVP Head of Enterprise Information Security Architecture at Wells Fargo
The conversation style podcast is all about the CISO view on cybersecurity, talent development, technology, leadership and so much more. CISO Talk is hosted by CISO James Azar who is leading a conversation with his peers on all things Cybersecurity and so much more than that... the show drops a new episode weekly, make sure to subscribe and watch the show on YouTube as well
In this episode of CISO Talk, James Azar is joined by Sam Phillips, SVP and Head of Enterprise Information Security Architecture at Wells Fargo to talk about cybersecurity innovation and the drastic changes by consumers and employees and what does this mean for practitioners, this is a preview to our full Fireside chat for the Cyber FinTech Conference hosted by Atlanta Tech Park and CyberHub Summit. The Event is on April 27th, 2021 and the rest of the episode will be available then to watch…
Tune in to this amazing podcast and make sure to subscribe and comment
Bio:
Senior Technology Executive with extensive experience in establishing and growing technology, security and risk programs in large international corporations as well as medium sized companies, including establishing and developing business requirements, creating and implementing governance and architecture models, infrastructure development and executing critical processes, products, and services with a strong focus on security, quality and availability. Specialties: Business Strategy, Technology Strategy & Innovation, Business Operations Management, Mobile Solutions and Services, Security Integration (physical and logical), Information Security, Cyber Security, Identity, Authentication, Systems Security, Supply Chain Security, Business Continuity Management, Threat and Risk Management, Online & Mobile Commerce.
Linkedin Profile: https://www.linkedin.com/in/samphillipscissp/
CISOTalk Paisley Shirt Challenge Donate now to support the wounded warrior project and get James to wear an ugly paisley shirt for one or all of his shows: https://tiltify.com/@cisotalk/ciso-talk-paisley-shirt-challenge
April 27th, 2021 – Cyber FinTech Conference in hybrid mode, tickets are available at atpcyberfintech.com
The Practitioner Brief is sponsored by:
KnowBe4: https://info.knowbe4.com/phishing-security-test-cyberhub
Whistic: www.whistic.com/cyberhub
Attivo Networks: www.attivonetworks.com
****
Find James Azar Host of CyberHub Podcast, CISO Talk, Goodbye Privacy, Tech Town Square, Other Side of Cyber and CISOs Secrets
James on Linkedin: https://www.linkedin.com/in/james-azar-a1655316/
James on Parler: @realjamesazar
Telegram: CyberHub Podcast
******
Sign up for our newsletter with the best of CyberHub Podcast delivered to your inbox once a month: http://bit.ly/cyberhubengage-newsletter
******
Website: https://www.cyberhubpodcast.com
Youtube: https://www.youtube.com/channel/UCPoU8iZfKFIsJ1gk0UrvGFw
Facebook: https://www.facebook.com/CyberHubpodcast/
Linkedin: https://www.linkedin.com/company/cyberhubpodcast/
Twitter: https://twitter.com/cyberhubpodcast
Instagram: https://www.instagram.com/cyberhubpodcast
Listen here: https://linktr.ee/CISOtalk
The Hub of the Infosec Community.
Our mission is to provide substantive and quality content that's more than headlines or sales pitches. We want to be a valuable source to assist those cybersecurity practitioners in their mission to keep their organizations secure.